Currently, our foundation focuses on reducing emissions from steel production internationally as part of our environmental program. Additionally, we fund projects aimed at addressing critical bottlenecks in environmental decision-making.
The strategy to influence carbon emissions from steel production is summarized in the following image, with three intermediate goals:
Increasing demand for green steel
Investors demanding emission reductions
Steel companies implementing emission reductions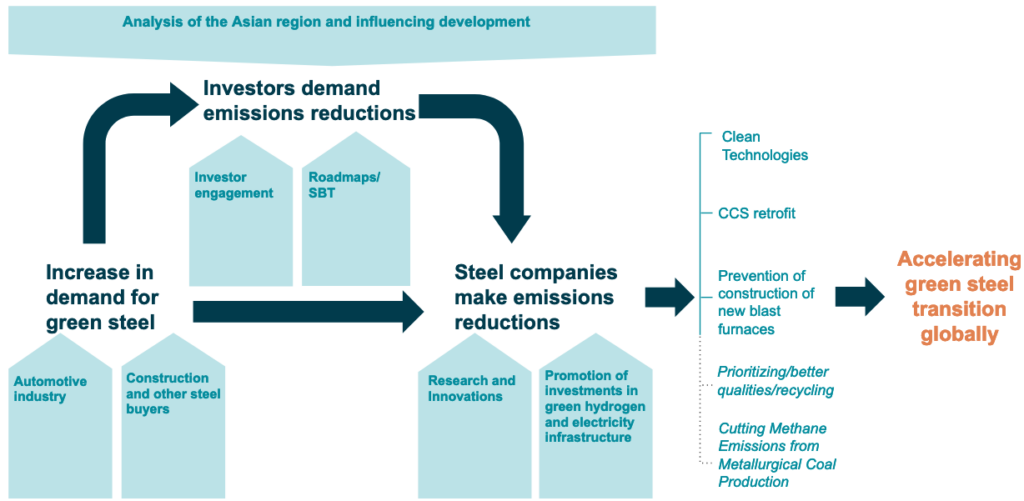 The steel-related projects we fund support the overall framework formed by these intermediate goals, aiming for global emissions reductions in the steel sector. Currently, we are funding the following projects aligned with the respective intermediate goals:
Increasing demand for green steel
The Sunrise Project
Grant: €300,000 / €411,737
Duration: 2021–2022 / 2022–2023
The Sunrise Project is an Australian organization with partners in the United States, Asia and Europe, focusing on financing and developing campaign work. Our foundation has provided funding to The Sunrise Project for their strategic planning and implementation of advocacy that targets automakers to transition to sourcing fossil-free steel. The resulting coalition, Lead the Charge, focuses on stakeholder engagement and has utilized a public campaign tool called the Leaderboard. This tool allows for the comparison of different automakers' progress towards more responsible supply chains.
SteelZero
Grant: €54,000 × 2
Duration: 2021–2023
SteelZero is the first global initiative that gathers commitments from companies to procure green steel. Numerous industry leaders have already made concrete intermediate commitments, aiming to achieve net-zero emissions associated with their steel requirements by 2050. The SteelZero project aims to send a signal to the market and policymakers about steel industry readiness for zero-emission supply chains, thereby catalyzing market expansion.
Compensate Foundation
Grant: €100,000
Duration: 2022–2023
Compensate is a Finnish foundation whose subsidiary, Compensate Operations Ltd, sells voluntary carbon offsets in carbon markets. We fund the analysis and advocacy work of the Compensate Foundation to address deficiencies in the carbon offsetting system and encourage companies to reduce emissions in their core operations. Our funding enables independent analysis by Compensate, which has gained international media attention for its quality.
Investors demanding emissions reductions
Australasian Centre for Corporate Responsibility (ACCR)
Grant: €250,000
Duration: 2022–2023
ACCR is a global organization specializing in investor engagement, aiming to influence the investment decisions of steel companies through their shareholders. We fund ACCR's work in producing steel-specific analysis for investors to utilize in their engagements with steel companies. ACCR is currently focused on influencing major steel companies in Japan, including collaboration with Nordic investors.
Transition Asia
Grant: €150,000
Duration: 2022–2023
Transition Asia is a nonprofit expert organization that aims to accelerate the transition to zero-emission production for large steel companies in East Asia, particularly through the utilization of hydrogen-based direct reduction. The organization consists of investment professionals who have direct connections to both corporate representatives and significant venture capitalists in the industry. The project collaborates with ACCR and supports the WWF Finland SBTi roadmap work also funded by TAH Foundation.
WWF/SBTi
Grant: €60,000
Duration: 2021–2022
In the WWF/SBTi project, we fund the coordination work of WWF Finland to support the development of a science-based roadmap for the steel sector. The Science Based Targets initiative (SBTi) is a collaboration among major international organizations that has successfully engaged thousands of companies across various sectors in science-based emissions reduction targets aligned with a 1.5-degree trajectory. The SBTi projects also assess the investment pathways required by steel sector companies to achieve these targets. The project we fund has established a stakeholder network to raise the ambition of the roadmap. Additionally, the work has brought together an international network of actors capable of engaging Nordic steel buyers and industrial investors to build a green steel ecosystem. Read more in our blog.
Steel companies implementing emissions reductions
University of Oulu
Grant: €400,000 × 4
Duration: 2022–2026
The research project Advanced Steels for a Green Planet (AS4G) at the University of Oulu develops technological solutions for achieving carbon neutrality in the steel industry. The research focuses on topics such as photocatalytic hydrogen production, hydrogen-based steel production methods, utilization of slag from electric arc furnaces for carbon capture, and low-emission production of high-strength steel grades. The project we fund is an example of internationally significant basic research, with insights that can be effectively translated into practice via a evolving multidisciplinary ecosystem of circular economy, hydrogen, and metallurgical industry. Find out more information here.
University of Eastern Finland / Torrec Ltd.
Grant: €30,000
Duration: 2022–2023
The joint project between the University of Eastern Finland and Torrec Ltd. focuses on the opportunities of biochar in steel production and carbon sequestration. The project partners are constructing a concept plant for producing biochar, with the added benefit of producing liquid biofuel as a byproduct to enhance its profitability. The production process aims to utilize byproducts from the forest industry. The research project we fund also investigates the use of other biomass sources in biochar production.
Analysis of the Asian region and influencing development
SwitchOn Foundation
Grant: €50,000
Duration: 2022–2023
SwitchOn Foundation has successfully promoted renewable energy projects, particularly in the eastern states of India, where there is significant steel and coal mining industry. SwitchOn has strong networks with local businesses and governments. Our foundation funds the expansion of stakeholder engagement for green steel in areas that can serve as role models in India, the world's second-largest steel-producing country. At the same time, the project opens a window for our foundation to contribute to the development of India's steel sector and bring together new project initiatives.
Pooled Fund on International Energy (PIE)
Grant: €400,000
Duration: 2022–2023
PIE is an international coordination body under the European Climate Foundation. The main objective of its steel team is to replace carbon usage in both existing steel plants and new investments. Our foundation funds not only PIE's campaigning capacity in key Asian countries but also the global Steelwatch campaign. PIE is an experienced and well-connected expert entity in the steel ecosystem, with established operational structures and contacts in areas crucial for our foundation's steel strategy.