Our foundation is currently focusing on accelerating the decarbonisation of global steel production in line with our environmental program. We seek and fund projects that speed up significant emission reductions and build comprehensive solutions and networks to address environmental crises across borders. In addition to the steel theme, we fund projects that aim to address critical bottlenecks in environmental decision-making.
You can learn more about the content of our project portfolio on this page. To get started, please watch the video below, which explains our theory of change underlying our environmental program for reducing global carbon emissions.
The strategy to influence carbon emissions from steel production is summarized in the following image, with three intermediate goals:
Increasing demand for green steel
Investors demanding emission reductions
Steel companies implementing emission reductions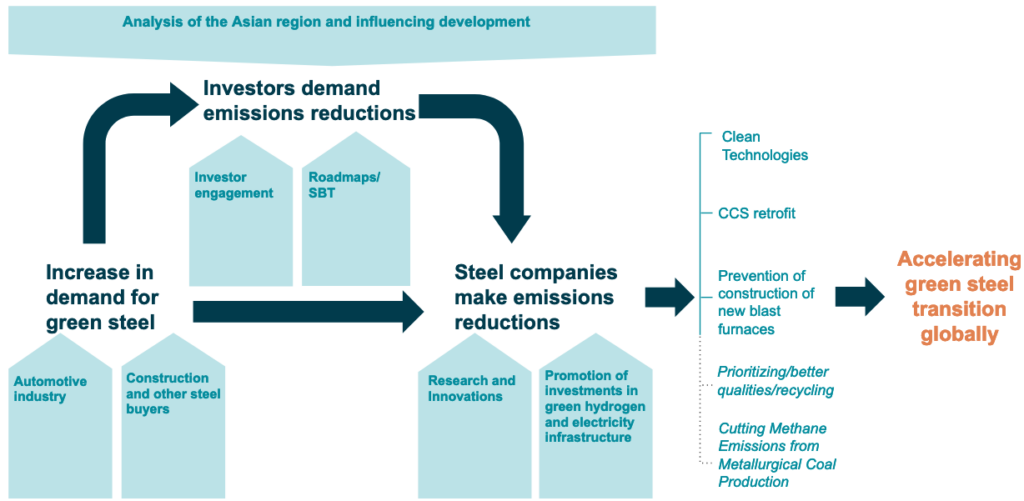 The steel-related projects we fund support the overall framework formed by these intermediate goals, aiming for global emissions reductions in the steel sector. Currently, we are funding the following projects aligned with the respective intermediate goals:
Increasing demand for green steel
The Sunrise Project
Grant: €300,000 / €411,737
Duration: 2021–2022 / 2022–2023
The Sunrise Project is an Australian organization with partners in the United States, Asia and Europe, focusing on financing and developing campaign work. Our foundation has provided funding to The Sunrise Project for their strategic planning and implementation of advocacy that targets automakers to transition to sourcing fossil-free steel. The resulting coalition, Lead the Charge, focuses on stakeholder engagement and has utilized a public campaign tool called the Leaderboard. This tool allows for the comparison of different automakers' progress towards more responsible supply chains.
SteelZero
Grant: €54,000 × 2
Duration: 2021–2023
SteelZero is the first global initiative that gathers commitments from companies to procure green steel. Numerous industry leaders have already made concrete intermediate commitments, aiming to achieve net-zero emissions associated with their steel requirements by 2050. The SteelZero project aims to send a signal to the market and policymakers about steel industry readiness for zero-emission supply chains, thereby catalyzing market expansion.
Compensate Foundation
Grant: €100,000
Duration: 2022–2023
Compensate is a Finnish foundation whose subsidiary, Compensate Operations Ltd, sells voluntary carbon offsets in carbon markets. We fund the analysis and advocacy work of the Compensate Foundation to address deficiencies in the carbon offsetting system and encourage companies to reduce emissions in their core operations. Our funding enables independent analysis by Compensate, which has gained international media attention for its quality.
Investors demanding emissions reductions
Australasian Centre for Corporate Responsibility (ACCR)
Grant: €250,000
Duration: 2022–2023
ACCR is a global organization specializing in investor engagement, aiming to influence the investment decisions of steel companies through their shareholders. We fund ACCR's work in producing steel-specific analysis for investors to utilize in their engagements with steel companies. ACCR is currently focused on influencing major steel companies in Japan, including collaboration with Nordic investors.
Transition Asia
Grant: €150,000
Duration: 2022–2023
Transition Asia is a nonprofit expert organization that aims to accelerate the transition to zero-emission production for large steel companies in East Asia, particularly through the utilization of hydrogen-based direct reduction. The organization consists of investment professionals who have direct connections to both corporate representatives and significant venture capitalists in the industry. The project collaborates with ACCR and supports the WWF Finland SBTi roadmap work also funded by TAH Foundation.
WWF/SBTi
Grant: €60,000
Duration: 2021–2022
In the WWF/SBTi project, we fund the coordination work of WWF Finland to support the development of a science-based roadmap for the steel sector. The Science Based Targets initiative (SBTi) is a collaboration among major international organizations that has successfully engaged thousands of companies across various sectors in science-based emissions reduction targets aligned with a 1.5-degree trajectory. The SBTi projects also assess the investment pathways required by steel sector companies to achieve these targets. The project we fund has established a stakeholder network to raise the ambition of the roadmap. Additionally, the work has brought together an international network of actors capable of engaging Nordic steel buyers and industrial investors to build a green steel ecosystem. Read more in our blog.
Steel companies implementing emissions reductions
University of Oulu
Grant: €400,000 × 4
Duration: 2022–2026
The research project Advanced Steels for a Green Planet (AS4G) at the University of Oulu develops technological solutions for achieving carbon neutrality in the steel industry. The research focuses on topics such as photocatalytic hydrogen production, hydrogen-based steel production methods, utilization of slag from electric arc furnaces for carbon capture, and low-emission production of high-strength steel grades. The project we fund is an example of internationally significant basic research, with insights that can be effectively translated into practice via a evolving multidisciplinary ecosystem of circular economy, hydrogen, and metallurgical industry. Find out more information here.
University of Eastern Finland / Torrec Ltd.
Grant: €30,000
Duration: 2022–2023
The joint project between the University of Eastern Finland and Torrec Ltd. focuses on the opportunities of biochar in steel production and carbon sequestration. The project partners are constructing a concept plant for producing biochar, with the added benefit of producing liquid biofuel as a byproduct to enhance its profitability. The production process aims to utilize byproducts from the forest industry. The research project we fund also investigates the use of other biomass sources in biochar production.
Analysis of the Asian region and influencing development
SwitchOn Foundation
Grant: €50,000
Duration: 2022–2023
SwitchOn Foundation has successfully promoted renewable energy projects, particularly in the eastern states of India, where there is significant steel and coal mining industry. SwitchOn has strong networks with local businesses and governments. Our foundation funds the expansion of stakeholder engagement for green steel in areas that can serve as role models in India, the world's second-largest steel-producing country. At the same time, the project opens a window for our foundation to contribute to the development of India's steel sector and bring together new project initiatives.
Pooled Fund on International Energy (PIE)
Grant: €400,000
Duration: 2022–2023
PIE is an international coordination body under the European Climate Foundation. The main objective of its steel team is to replace carbon usage in both existing steel plants and new investments. Our foundation funds not only PIE's campaigning capacity in key Asian countries but also the global Steelwatch campaign. PIE is an experienced and well-connected expert entity in the steel ecosystem, with established operational structures and contacts in areas crucial for our foundation's steel strategy.
Guiding policy and regulatory measures
European Environmental Bureau
Granted: €220,000
Duration: 2022–2023
EEB is an international umbrella for national environmental organizations in EU countries, the Balkans, Turkey, and Ukraine. The organization has 180 members, and its goal is to promote environmental protection in the European Union and globally. EEB collaborates with EU institutions and actively participates in key expert groups and stakeholder engagement. The purpose of the project we are funding is to increase green steel production in the EU by accelerating public procurement and developing policy measures that support it.
Hiilivapaa Suomi
Granted: €65,500
Duration: 2022–2023
Hiilivapaa Suomi, part of Finnish Maan Ystävät ry, is a campaigner whose journalist climate education, also built with our foundation's funding, focuses on steel influencing. The project aims to promote the demand for green steel in Finland and possibly other Nordic countries through investor engagement and policy actions.
Addressing societal bottlenecks in decision-making
In addition to the steel projects listed above, we fund other environmental projects that broadly support socio-ecological decision-making. Their purpose is to address specific bottlenecks related to a sustainable transition.
Aalto University
Granted: €127,140
Duration: 2021–2023
In the Aalto University project, an international expert group is writing a multidisciplinary textbook for energy engineers. The book combines environmental science understanding with the expertise of energy engineers, aiming to incorporate the environmental impacts of new energy systems more comprehensively into energy engineering education programs. At the same time, a key part of the project is to innovate teaching methods and foster discussions not only between university educators and students but also between research institutions and businesses hiring engineers. The book will be published by the esteemed scientific publisher Springer Nature.
Acter
Granted: €20,000
Duration: 2022–2023
Acter is a non-profit association that develops open-source software to strengthen the influence of civil society. The service allows citizen activists and organizations to efficiently and securely organize their activities, even in politically unstable regions around the world. Our foundation is one of the funders participating in the further development of the application.
Akordi Oy
Granted: €151,576 × 2
Duration: 2023–2025
Akordi is a non-profit social enterprise with 10 years of experience in resolving environmental disputes in Finland. With the support of our foundation, Akordi is building a wide network of cooperation in Finland to enhance capacity for managing conflicts related to the green transition and to create a neutral forum for conflict prevention. The two-year project involves experts and stakeholders working on core issues related to a just transition and who have a direct view of transition-related conflict risks. Read more in a guest blog post.
Climate Move
Granted: €20,000 × 3
Duration: 2021–2024
Climate Move is primarily a citizen movement consisting of young individuals interested in politics and coming from the university world. It encourages a sustainable and fair society through learning together and acting consciously. Through the movement, activists often get their first opportunities to influence political decision-making and negotiate with officials and politicians on issues related to climate change and environmental responsibility. Our foundation's flexible funding supports the movement's agile campaign activities.
CoastClim
Granted: €300,000
Duration: 2022–2024
The joint research project CoastClim is a multidisciplinary center for coastal ecosystem and climate research that connects the Tvärminne Zoological Station and the Institute for Atmospheric and Earth System Research (INAR) at the University of Helsinki with the Baltic Sea Centre at Stockholm University and the Bolin Centre for Climate Research. In other words, it brings together experts in marine ecology, biogeochemistry, and atmospheric research in the Baltic Sea region. CoastClim aims to provide comprehensive information on the interactions between the processes of the Baltic Sea and its coastal environments and the atmosphere, and what this means for the climate. We are funding the work of two postdoctoral researchers in a project that has already produced concrete results, particularly concerning the underestimation of methane as part of carbon emission calculations in marine ecosystems.
EEAC
Granted: €10,000
Duration: Autumn 2022
The European Environment and Sustainable Development Advisory Councils Network (EEAC) is a network of independent expert panels from European countries that consult with their national governments on climate and environmental issues related to sustainable development. The network's 30th-anniversary seminar was held in Helsinki in the autumn of 2022 in collaboration with the Expert Panel on Sustainable Development, the Finnish Nature Panel, and the Finnish Climate Change Panel. Our foundation was one of the event's funders.
Global Commons Alliance
Granted: €500,000 × 2
Duration: 2022–2024
The Global Commons Alliance (GCA) is our foundation's first partner to receive funding under the strategic period 2020–2025. Their ambitious environmental work aims to systematically scale up a safe and equitable future for both people and the entire planet. Our foundation is one of the funders, including significantly larger environmental funders from elsewhere in Europe and the United States. You can read more about the project in our blog.
Hiilivapaa Suomi
Granted: €65,500
Duration: 2022–2023
Hiilivapaa Suomi is a climate campaign that, through citizen activism, seeks to commit Finnish companies to a emission path in line with the Paris Climate Agreement. The Tiina and Antti Herlin Foundation supports its work in deepening journalists' climate expertise, for which Hiilivapaa Suomi has organized two free climate-focused journalist trainings to date.
University of Eastern Finland
Granted: €180,000
Duration: 2023–2025
The THORMS project at the University of Eastern Finland examines the factors, risks, and changes related to the acceptability of wind power in Finland. The project generates researched information about the acceptability of wind power and, more broadly, renewable energy in a situation where the amount of renewable energy is rapidly increasing as part of the green transition. The results of the project help to understand acceptability as a prerequisite for the green transition and anticipate challenges, conflicts, and issues related to acceptability.
Nouhau Productions Oy and Yleisradio Oy
Granted: €80,000
Duration: 2021–2023
Nouhau Productions Oy produced the documentary series "Ilmaston muuttajat" (Climate Changers) broadcast on Finnish Yleisradio, which brings up climate change mitigation as a cross-cutting societal challenge. The five-part series specifically highlights climate solutions found in the most emission-intensive industrial sectors. The documentaries were released in the spring of 2023 and are still available on Yle Areena (in Finnish).
Sininen pallo
Granted: €33,334
Duration: Annually from 2022 on
The Sininen pallo Award is an annual recognition awarded for pioneering and scalable technology or scientific research as a response to the environmental crisis. It is awarded to solutions that, through their existence, change the behavior of citizens. The prize amount is €100,000, and our foundation is one of its grantors, along with the Maj and Tor Nessling Foundation and the Svenska litteratursällskapet i Finland SLS.
Tina Nyfors' doctoral research
Granted: €26,000 + €28,000 × 2
Duration: 2022–2025
In her doctoral work, Tina Nyfors explores the potential of the concept of "sufficiency" in decision-making and how the concept is understood at the grassroots level among activists in a Finnish sufficiency-related movement. The interaction between "bottom-up" and "top-down" approaches is at the center of her research.