During the strategic period of 2020–2025, Tiina and Antti Herlin Foundation is focusing its resources on reducing emissions and for urgently addressing the climate crisis. In all activities the foundation also seeks to protect and prevent any further loss of biodiversity.
To put this strategy into practice, our environmental programme has determined a number of focus areas on which to concentrate our work. We are currently actively looking for projects that meet with the criteria as set in the strategy.
The programme will help channel support to projects with the following features:
They produce rapid and significant emission cuts and positive climate impacts.
They have potential to scale up, contributing to large emission cuts worldwide.
They may be related to innovations in energy production, industry and sustainable raw materials, or carbon-neutral technology.
They can provide solutions for regulating emissions.
They can increase the potential for system-level changes in Finland and internationally.
They bring significant synergies to biodiversity protection.
They provide significant added value to climate protection compared to existing projects and actors.
They are able to take controlled risks in relation to the intended effects.
We want to strengthen a constructive dialogue on climate and environment that brings together different actors, and support human resources in different parts of society. In this way, we can have more actors who actively promote and implement the transition to a sustainable, carbon-negative future.
Five focus areas
After initial assessments based on expert interviews, the environmental programme includes five sector-specific focus areas:
Projects in the selected focus areas will contribute to achieving the foundation's key goals: promoting change at the systemic level and producing scalable solutions.
About the criteria and systemic approach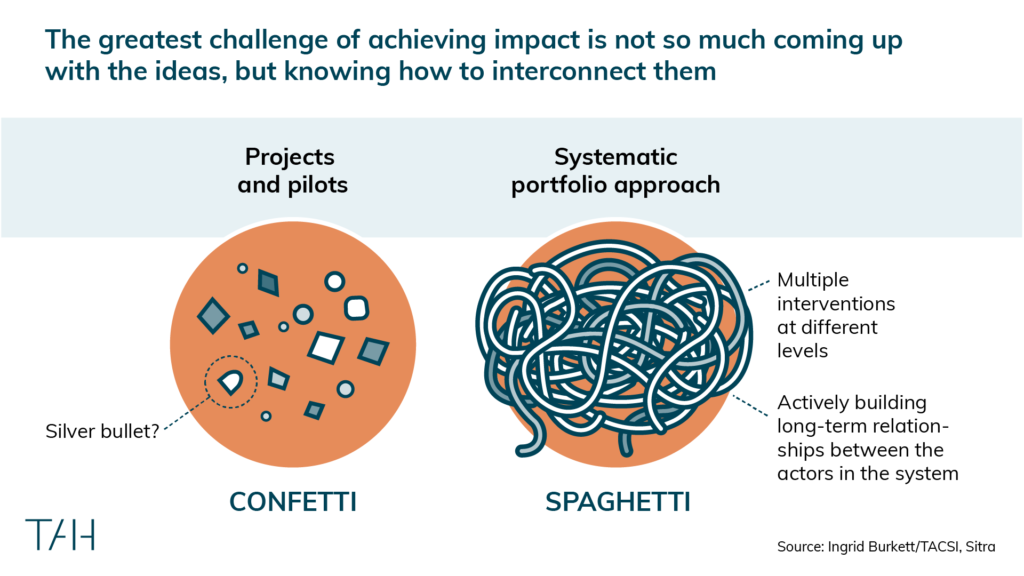 Despite its size, the foundation aims to tackle vast global challenges, and therefore we must focus our efforts on selected areas. Within the focus areas, the intention is to create project portfolios that will enable the projects – and the human resources they employ – to support and complement each other. This is to ensure that the projects can make a more significant difference – by combining forces in a world in which major changes demand a number of actions to happen simultaneously. Within the scope of the projects, partial solutions will be created to accommodate new project ideas and, eventually, opportunities for more far-reaching change.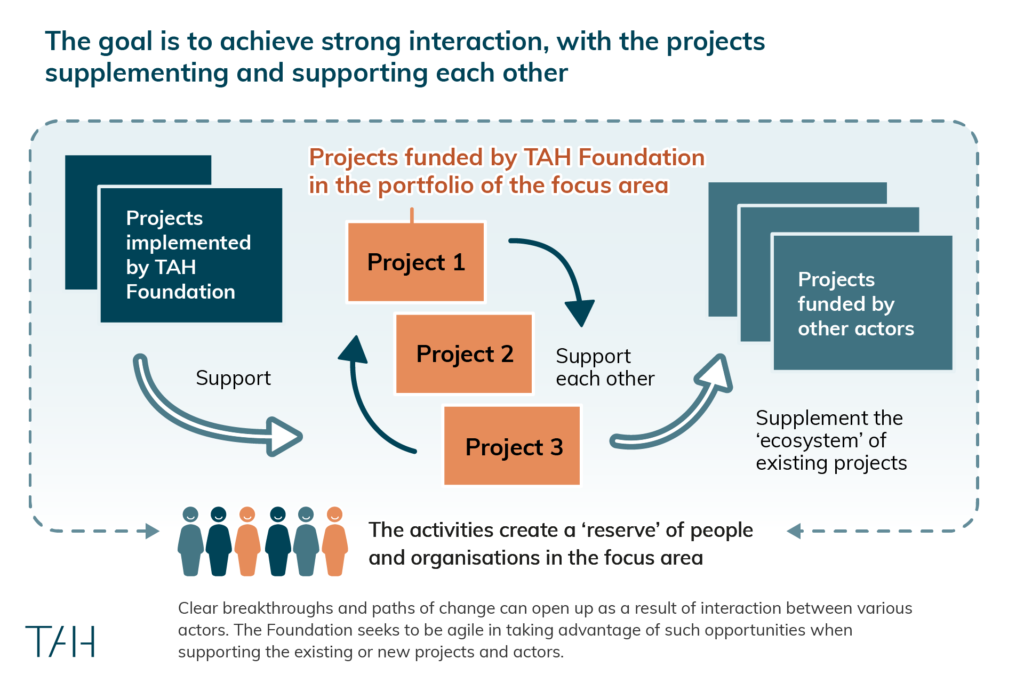 When mapping out the focus areas, we specifically looked into potential climate impacts, future opportunities compared to existing projects and actors within the working areas. A preliminary strategy and assessment was also carried out for each focus area, on how the area meets the Foundation's criteria. During the research stage, over 50 experts were interviewed. We will keep up a continuous and diverse dialogue when implementing and updating the program.
Bottlenecks and cross-sectional areas
The ambitious goal of our environmental programme is not only to accelerate emissions cuts, but also to achieve cross-cutting impacts on societies internationally. In addition to work within the focus areas, we promote projects that push for bolder, faster decision-making in the face of the climate crisis. These include projects that provoke social discussion on how the economy, work and consumption needs to change during the transition forced by climate change and identify solutions for the conflicts and bottlenecks in these sectors.
Another significant objective of projects promoted by the foundation is to develop the role of both investors and public funding in the mitigation of the climate crisis.
Finally, the third cross-sectional project objective is to support human resources in different sectors of society – such actors that are capable of promoting and implementing the demands of the climate and biodiversity related transition.
Selected focus areas
The key criteria for selecting the focus areas have been the estimated impacts for climate action globally – the speed, scale and systemic impacts on society and industry as well as impacts on biodiversity. Other factors guiding the program creation have been the existing networks of the foundation, as well as achieving added value in relation to existing projects and actors.
Please find steel projects being funded here.